If your student just switched to Virtual (or In Person), yes they have duplicate classes listed. These will be removed once grades are downloaded and transcripted - hopefully within the next few days. If your child has old meetings on the Teams Calendar, they can right click on the meeting and choose to remove the series. They may have to go through the options to find it.
Hello. The backpack buddy program will resume starting Friday January 29th. If you are interested in this program, even if you signed up previously, please contact Ms. Lee through schoology.com or ext. 3621. HMS has 10 yearbooks left. $40.00 cash to the main office. No holds. No school Monday. Semester changes Tuesday.
HMS Lunch Menu Jan. 25-29 Monday - No School for Students Tuesday - BBQ and Diced Potatoes Wednesday - Long Awaited Turkey Dinner!! Thursday - Pizza and Salad Friday - Hot Dog and Quick Bake Potatoes
Student Home Self Assessment - for those of you that may have misplaced your copy.
Hello Reminder —parent drop off starts at 8:00am and buses run 30 minutes later than they did last school year. Watch for the new road marking so as not to block buses.
HMS Lunch Menu 1/19-1/22 Tuesday - Chicken Sandwiches and Fries Wednesday - Spaghetti and Salad Thursday - Corn Dog and Mac & Cheese Friday - Beefy Nachos
Hello HMS families. A few things to share. No School Jan 18th. As we start back to in person learning next week, all 5-day meals will need to be picked up on Tuesday's 9:45-10:30 in front of the middle school. There will be NO deliveries. These are only for virtual students. If your child is moving to virtual starting January 26 and you wish to pick up 5 day meals please call the main office to be added to the list for January 26. 304-562-9271 extension 3601. All students are to wear a mask upon returning to school. HMS will follow the same safety protocols as we did in the fall. All students are to complete the health check before arriving to HMS. After school tutoring and after school detention will start back up the week of January 19th. There will be No school on January 25th. Next week is NOT the next semester, if you are switching your child to in person or virtual, they will start that new platform on January 26th. In person pictures for the yearbook will be January 27th. Virtual picture information will be shared soon. Please continue to check on your student's grade progress as semester grades will close on January 22nd. Please make sure your child remembers their bus number. Please call the school with any phone number or address changes so we have accurate information. Have a great evening!
8th Grade Brag Board Info - See Photo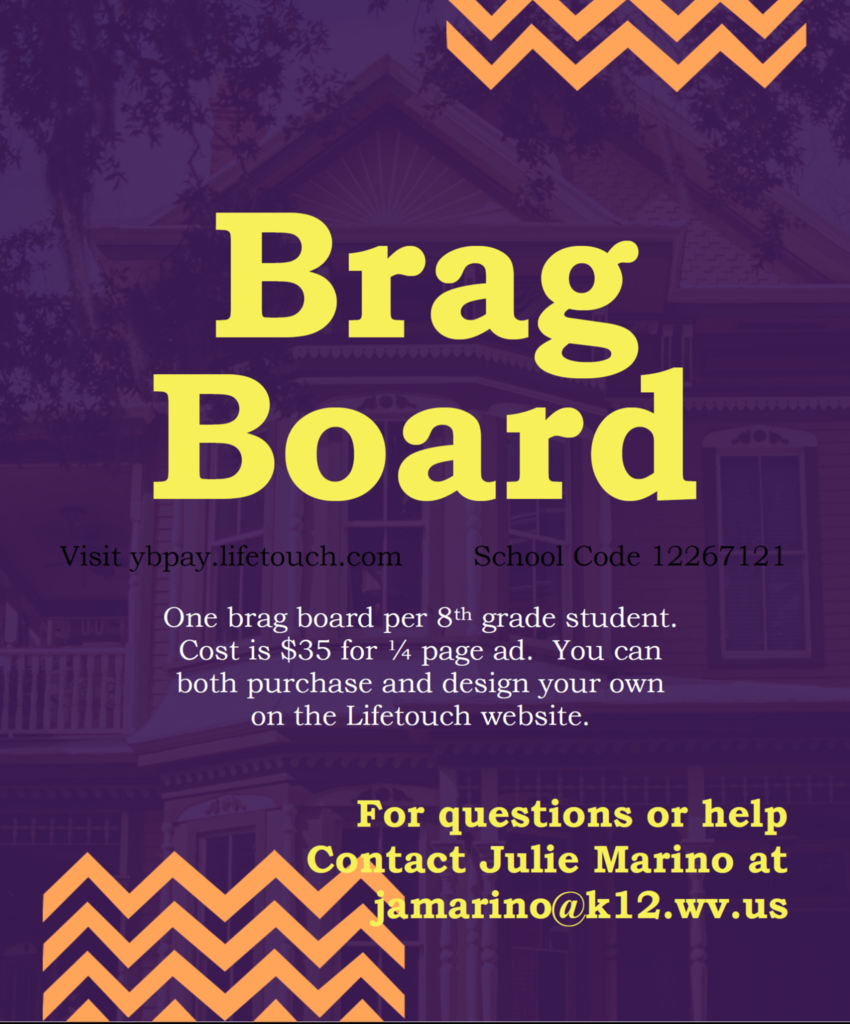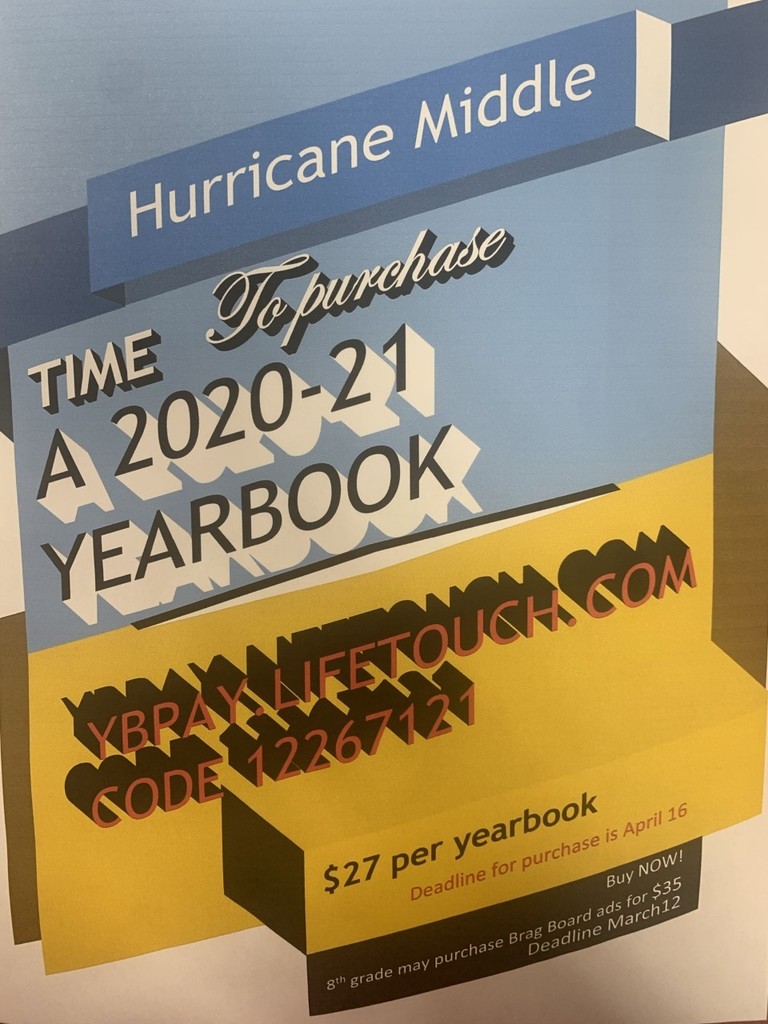 Just a reminder: 1) The deadline for changing your student's instructional delivery for the third nine weeks closes this weekend. The link is below.
http://bit.ly/hmscurrchange
2) To order 5-day box meals for next week, please complete the registration. Again, if you have picked up at anytime since December 1st you do NOT need to register.
http://bit.ly/hmsmealorder
Putnam County Schools has established an Emotional Support Phone Line for families and students in need of emotional support during the COVID-19 pandemic. The Emotional Support Phone Line number is (304) 586-4947 or extension 1960. Feeling isolated, overwhelmed, or alone? Need to talk? Do you or does your family need emotional support during the COVID 19 pandemic? The Putnam County Schools Emotional Support Phone Line provides resource referrals for students and families experiencing emotional distress. Student support staff are available to talk, offer resources, and provide referrals to other local agencies if needed Monday thru Friday 10am to 6pm. If you are experiencing an emergency crisis, please contact the West Virginia Children's Crisis Line at 1-800-HELP4WV (1-800-435-7498) or call 911 immediately. West Virginia Children's Crisis can also be reached on their website:
https://wwwhelp4wv.com/ccl
. We are available to help and provide supports. Give us a call at (304) 586-4947.
Hello! We have many purchased yearbooks that still need picked up. Please call the main office to pick up. 304-562-9271 ext. 3600. We also have a few extra to sell $40.00 dollars cash. First come first served. Please call the office to set up a pick up time.
Hello and Happy New Year! Two links are in this post. If you have not ordered meals before, and would like to please use this link. The link closes Sunday (1/3) at 8:00 pm. Pick-up/Delivery will be Tuesday (1/5)
http://bit.ly/hmsmealorder
To change your child's curriculum delivery platform, use the following link. Link is open 1/4 - 1/8. Any requests after the window, may not be accommodated.
http://bit.ly/hmscurrchange
Just a reminder - the deadline to register for 7-day boxed meals is tonight at 8:00pm. Pick-up or delivery will be TUESDAY this week from 9:30-10:45am in front of the school. If you have taken part over the last few weeks, you DO NOT need to register again.
Http://bit.ly/hmsmealorder
The link can also be found on the Schoology Updates page.
A huge thank you to the HMS families and local businesses that provided lunch and goodies for all HMS staff today. It was wonderful! We appreciate all of you!
If Putnam County schools are remote again next week (12/21-12/25) please use the following link to register if you would like meal pick-up/delivery. DO NOT register if you have already been participating in meals. Pick-up/Delivery of box meals for next week has been changed to TUESDAY (12/22). This link CLOSES Sunday evening at 8:00pm. Several meals were not picked up last week, if you have changed your mind please call to cancel 304-562-9271, ext. 3601.
Http://bit.ly/hmsmealorder
Hello MAKE UP computer pick up. We have over 180 that have not been picked up. This Friday 3:30-5:30 for any 7th or 8th grade virtual or in person student that do not already have the L390 model -The number is located on the right hand side of the screen and the charger is similar to a cell phone charger. Parents are to park out behind the school. The student only will wear a mask (bring a pen) and report to the breezeway and then to the main hall of the old building near Mrs. Ferguson's classroom. Look for staff in the hall and they will explain what to do. Bring your current computer and charger. Parent will need to sign paperwork.

FREE MEALS AVAILABLE FOR ALL PCS STUDENTS: This meal service is free of charge and available for ALL students, whether or not enrolled in the meal benefit program. Therefore, we encourage all families to take advantage of this opportunity. Daily pick-up times for meals are from 11:00 am - 12:30 pm at each school. Families will pick-up meals at their students' home school location, curbside while remaining in the vehicle. If transportation is a problem, families may contact their home school to request meal delivery assistance.
This Wednesday we will distribute computers to in person 7th and 8th graders who do not already have the L390 model -The number is located on the right hand side of the screen and the charger is similar to a cell phone charger. Parents are to park out behind the school. The student only will wear a mask (bring a pen) and report to the breezeway and then to the main hall of the old building near Mrs. Ferguson's classroom. Look for Ms. Lee in the hall and she will explain what to do. Bring your current computer and charger. Parent will need to sign paperwork. Wednesday, December 16, 2020 7th grade pick up hours: 8:30 – 10:30 8th grade pick up hours: 12:00 – 3:00