For information on High School Band OR to see videos of our amazing Chorus performances, please visit our Schoology Homepage. Just a reminder, if your student is in person and was absent today they need to bring their computer and charger on Wednesday when they are called. Have a great evening.
Computer Return: May 24th – May 26th – In Person Students June 2nd – Virtual Students 9:00 am – 1:00 pm There will be a $25 charge for missing chargers.
Please complete the form on Schoology if you are interested in the Pfizer vaccine for anyone in your household 12 or older. The deadline is noon on May 5. Also Backpack Summer feed program form is on Schoology please complete if interested. Virtual testing information for next week will be sent home later this week.
Hello, 8th grade virtual students must complete the HHS schedule form on Schoology. The deadline is April 29. If you do not complete the form HHS will pick your classes for you. WV Learns students can log in to Schoology as well. If you have issues call HHS.
Seventh grade testing for in person students starts tomorrow. Please make sure your child brings a fully charged computer, power cord, and earbuds (if they have them) to school each day of testing. Breakfast and lunch are free to all students this year!
Hello. 7th grade in person testing is next week. Please make sure your child charges their computer and brings their power cord with them to school. Monday, Tuesday, Wednesday are regular test days. Thursday and Friday will be make up days as needed. Breakfast and lunch are free this year. PCS has a great summer program planned. Please check it out on the PCS Facebook page or ask to see the brochure your child was given. Have a great weekend!
Hello, 2 hour early out tomorrow Lunch- corn dogs and fries. Virtual parents please see Schoology to fill out a form concerning state testing. 7th grade in person state testing starts next Monday. Be sure to charge your computers and bring your power cords each day. Have a great evening.
Report cards went home today. Summer school information was also sent home today. This is a great opportunity for all our middle school students. Please be sure to look over the brochure. Have a great weekend.
Hello, If you are returning to in person tomorrow you will pick up your class schedule from Ms. Allen's office when you arrive at HMS. Go directly there. I hope you all enjoyed your break. Can't wait to see you all tomorrow.
Hello. Please charge your computers tonight. Golden Horseshoe Test Tomorrow. Next Week Spirit Week: Monday- neon color day Tues. red and white day Wed. wild west day Th. Decade or throwback day Fri. Favorite College day No face paint, hats, or other items- Just clothes that meet the dress code.
Good evening! Just a reminder that the window to change curriculum delivery for the 4th nine weeks is now open. It closes on Friday, March 12th. The link is located on our Schoology Homepage.
Updated calendar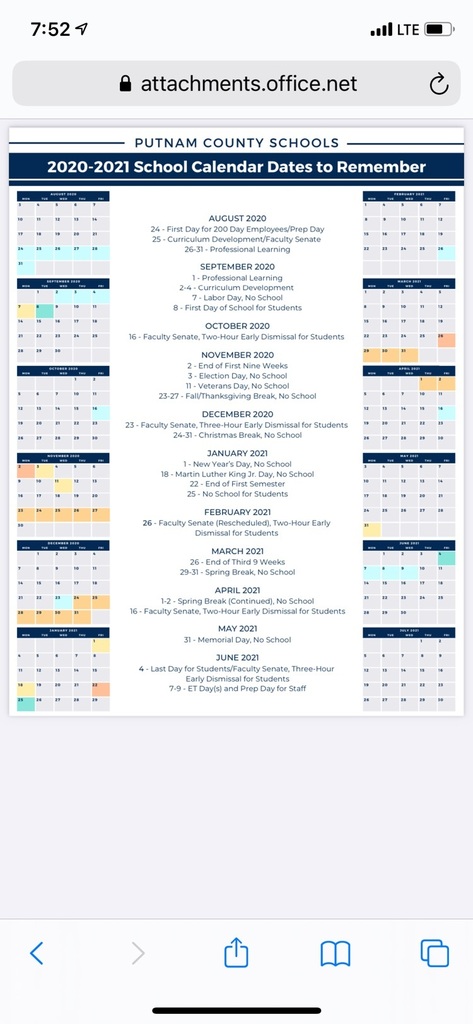 Tomorrow is a 2 hour early out.
Hello. Several things from HMS. Please have your student bring a note to school on their fist day back if they missed school do to not having electric. Bus drivers should supply a note for those buses that did not run. Please discuss the importance of those notes being turned in to the note box. Golden Horseshoe essay test is tomorrow during 8th grade first basic class. ALL students can take the test. Virtual students need to complete the assignment and turn it in so it can be printed and added to the in-person collection and sent to the BOE. Make up and or retake pictures are this Wednesday. Please scroll down the Schoology thread to find additional information.
Friday, February 26, 2021 will be a Faculty Senate Day. All Putnam County Schools will release 2 hours early.
Boys Basketball Tryouts will be this Saturday from 10-12. Must have all paperwork to turn in. Some may have already turned those items in.
All extracurricular and athletic activities are cancelled for today.
Putnam County Schools will be on remote status for February 12, 2021. No students report to school. Class work will be remote on Schoology. We begin classes on a 2 hour delay schedule. There will no longer be an early out. See Schoology thread for the schedule. Sorry for any confusion.
Updated Menu for 2/8 - 2/12.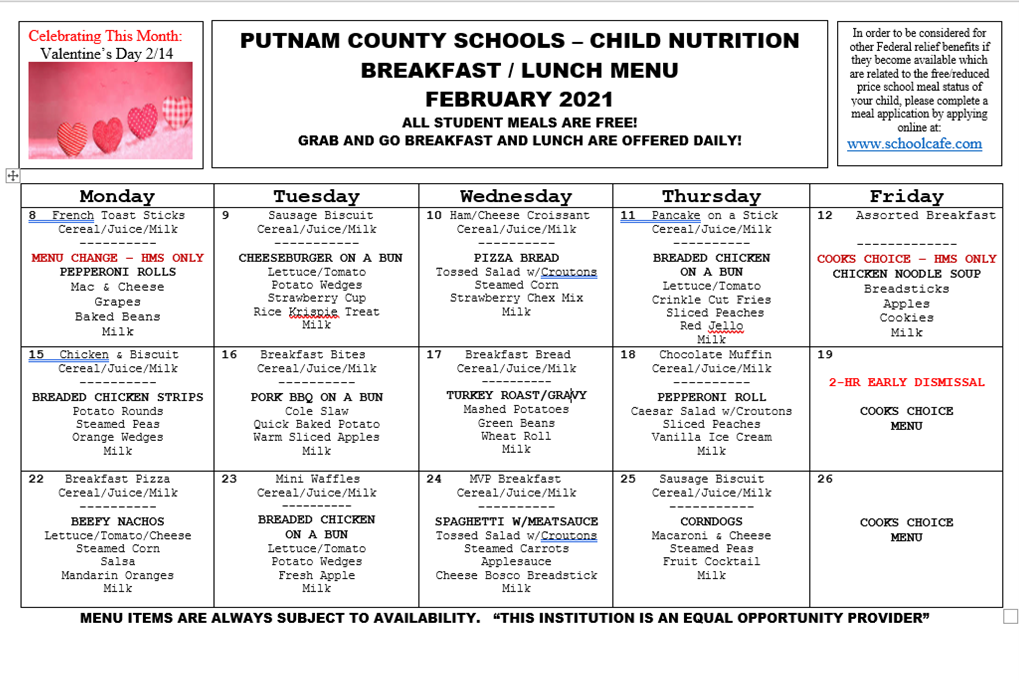 Virtual pictures will be February 3, 2021 in the HMS library from 4:30-6:45 pm. Students only will enter the ramp area by the library wearing a mask. They will wait in line 6 feet apart, have picture taken and exit the library doors to the parking lot. Forms will be available tomorrow. These are prepaid pictures.