Julie Marino doing HMS yearbook again this year.   I would love some virtual back to school pictures for our yearbook.   Just send them to my work email
jamarino@k12.wv.us
We are currently still waiting to receive 2019-20 yearbooks but when we do I'll immediately find a way to get them distributed.
Virtual Academy Day information.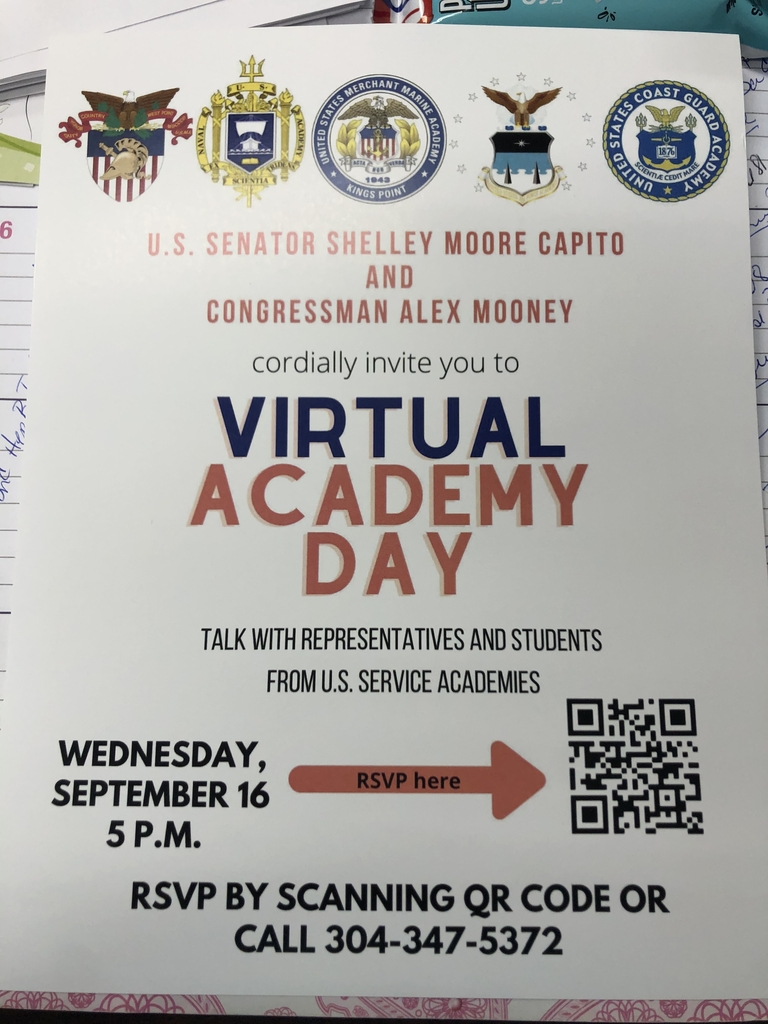 Hello, Some continue to have Schoology log in issues. You must use putnam.schoology.com to log in. If you use the regular site it will not work. Remember lunches are available at HMS from 10:00am- 12:00pm each day. If you are unable to come to HMS to pick up lunches, please call the main office by 8:00 am and leave your complete address, phone number and names of HMS children. We will work on having those delivered to you. A huge thank you to all our parents, students and staff! Computer pick up was successful because we all worked together to get the job done. Have a great evening.
Good evening! It is has been brought to our attention that some of you that received computers today are having issues with the downloaded version of the Office products. Please use the the following instructions to use the online version for now. Once other devices arrive, we will be able to switch them out. Students can access the web version of Office 365 at this address:
https://www.office.com/
Students will log in with the email address and password on their Office 365 account sheet. Apps will appear at the top of the window after logging in. If an app isn't showing, click All Apps or click the "waffle" (nine squares in the upper left) for more apps. Thank you so much for your patience and understanding during these unprecedented times.
Hello, We are aware that a few of you that came yesterday for laptop pick up may have been accidently given an incorrect charger for your laptop. If this is the case, you may report to HMS today between the hours of 3:30-6:00 to change those out. Please bring the laptop and the charger so we can make sure you have the correct one. Also, we are aware that there are lots of questions with the new technology. Please be assured that the staff at HMS is working on finding those answers for you as quickly as possible. This is a learning process for all of us. Cameras have been ordered for computers that do not have them. When they arrive, I will certainly pass that information along to you. I believe everything will work out. It might take a week or two be we will get there! Hang in their folks! Inform the children to not stress. They need to try to do the best they can and if they need assistance, they can email their teachers.
Hello HMS parents and students. Every day this week, meals will be given out from 10-12 in the back-parking lot. Students will receive a lunch and a breakfast for the next day. Please follow the HMS school drop off pattern. Tomorrow, Wednesday, September 9, from 12:30-3:30 in person computer pick up (will be 6th grade only). Please report to the front of the breezeway gate to obtain a packet of papers to complete. You may then pull to the back parking lot to complete the paperwork and when both parent and child have signed all needed papers the student and only the student will wear a mask and report to the breezeway back area to get a laptop and log in etc. They will then report back to the vehicle to leave. Tomorrow, Wednesday, September 9, afternoon will also be makeup day for in person and virtual student pickup for all grades. 3:30-6:30pm. Please report to the front of the breezeway gate to obtain a packet of papers to complete. You may then pull to the back parking lot to complete the paperwork and when both parent and child have signed all needed papers the student and only the student will wear a mask and report to the breezeway back area to get a laptop and log in etc. They will then report back to the vehicle to leave. If students do not report on their assigned day in person students will get their laptop on the first day of in person school and virtual students will have a makeup day set by the county. Please note that google chrome works best. If your child has trouble logging-on, please call the school. This is a learning process for all, and we will get through it together one day at a time. Staff is aware that it may take a few days for everything to fall into place. Make sure to use Putnam.schoology.com
If you would like to help expedite the computer deployment, or you are having another family member bring your child, please feel free to print and complete the following documents to bring with you.
https://core-docs.s3.amazonaws.com/documents/asset/uploaded_file/892820/Virtual_Paperwork_Packet.pdf?fbclid=IwAR1DErzRQdwcGOB_nd_ndUCW37UoOf0nZDOrxoy0wHXXlNuC73xCRY8aGo8
Even if you have completed the forms please pull into the front loop for any additional forms or information before pulling around back to park and complete all other items. Once all items are complete, send ONLY the student to the breezeway with all documents. Your child will be provided with their Office 365 login at pickup, in case they do not remember their information. Teachers know that some students will not be able to log on until they receive this information, and are prepared to be patient and understanding. We ask for the same patience and understanding in return. Enjoy your evening!


HMS Fall Sports Season Passes Season passes for the Fall Sports of Football, Soccer and Volleyball will be on sale starting tomorrow 9/1/20 from 2-4 everyday through Friday 9/4/20. We will be set up in the Breezeway between the old and new buildings. Please remain in your car in the front loop and someone will come to your car and assist you. Currently only parents/guardians may buy the passes as we are a yellow county according to the state guidelines. A pass is $20 (cash only) and it will get you in to every home game for that particular sport. These passes are non-refundable should any games have to be canceled. This is the only way to get in games this year as all home tickets must be pre-sold.
HMS- virtual computer deployment schedule 6th Grade Tuesday (9/1/2020) 7th Grade Wednesday (9/2/2020) 8th Grade Thursday (9/3/2020) 10:00am-2:00pm Student must be present with a parent to complete paperwork. Front of new building where the breezeway gate is located. Individuals will stay in cars. Needed paperwork will be brought to each vehicle and will be completed before a computer will be given to the student. The student will need to log onto the computer while they are in the car to connect to the system. They will use their office 365 account. That information will be provided for those that do not know it. Once paperwork is collected and the student successfully logs in you may leave the area.
Please remember buses will run 30 minutes later than usual. Students who walk to school or are parent drop off may not arrive at HMS until 8:00am. This change allows for safety protocols to be followed. Breakfast will be served each day as well as lunch. There are a few changes to lunch this year. Microwave will not be used, and individuals may not bring outside food items to students during the school day. If you sign your child out for any part of the school day for an appointment, they may return with a doctor note. However, if a student is signed out for any other reason, they will not be allowed to return that day. Masks will be required for students and staff as well as any individuals that report to HMS for any reason. Please discuss with your child the importance of following all safety guidelines in relation to the Putnam County Roadmap to Responsible Return. This can be found on the county website.
Saturday, August 29, 2020 In person schedule pick up. Students attending school 5 days a week may report the new building by the breezeway gate to pick up their schedules. Individuals will stay in cars. Someone will come to you and deliver the schedule. 6th grade – 8:30am-10:30am 7th grade 11:00am-1:00pm 8th grade 1:30pm-3:30pm
Good evening! We are sure you have questions about the start time at HMS with the decision by PCS to delay start times. HMS a will start at 8:30am, with the first buses arriving at 7:45 and drop-offs/walkers at 8:00. We completely understand that that is not convenient for some of you; however, in order to have extra staff on duty for supervision and to ensure appropriate social distancing — it is necessary. As far as suggested supply lists go, just stick with the basics: binder, paper, pens. Teachers will discuss other suggested items in the first few days. A call will be coming in the next couple of days with details for virtual students and computer/schedule pick up. If you have questions, please feel free to call the school.
Hello, All! Happy Sunday! Teachers start back tomorrow and will be busy all week in exciting trainings and preparing their classrooms for the return of students. More information about the start of school will be coming this week. Please remember that at this time things are ever-changing and be patient with us as we move forward through this journey together. If you have an upcoming sixth grader, and they have not yet watched our virtual move up day on YouTube the link is listed below. A few details from the video may be changing, and we will update our families of those changes as soon as possible.
https://youtu.be/3GR-7p5nJfk